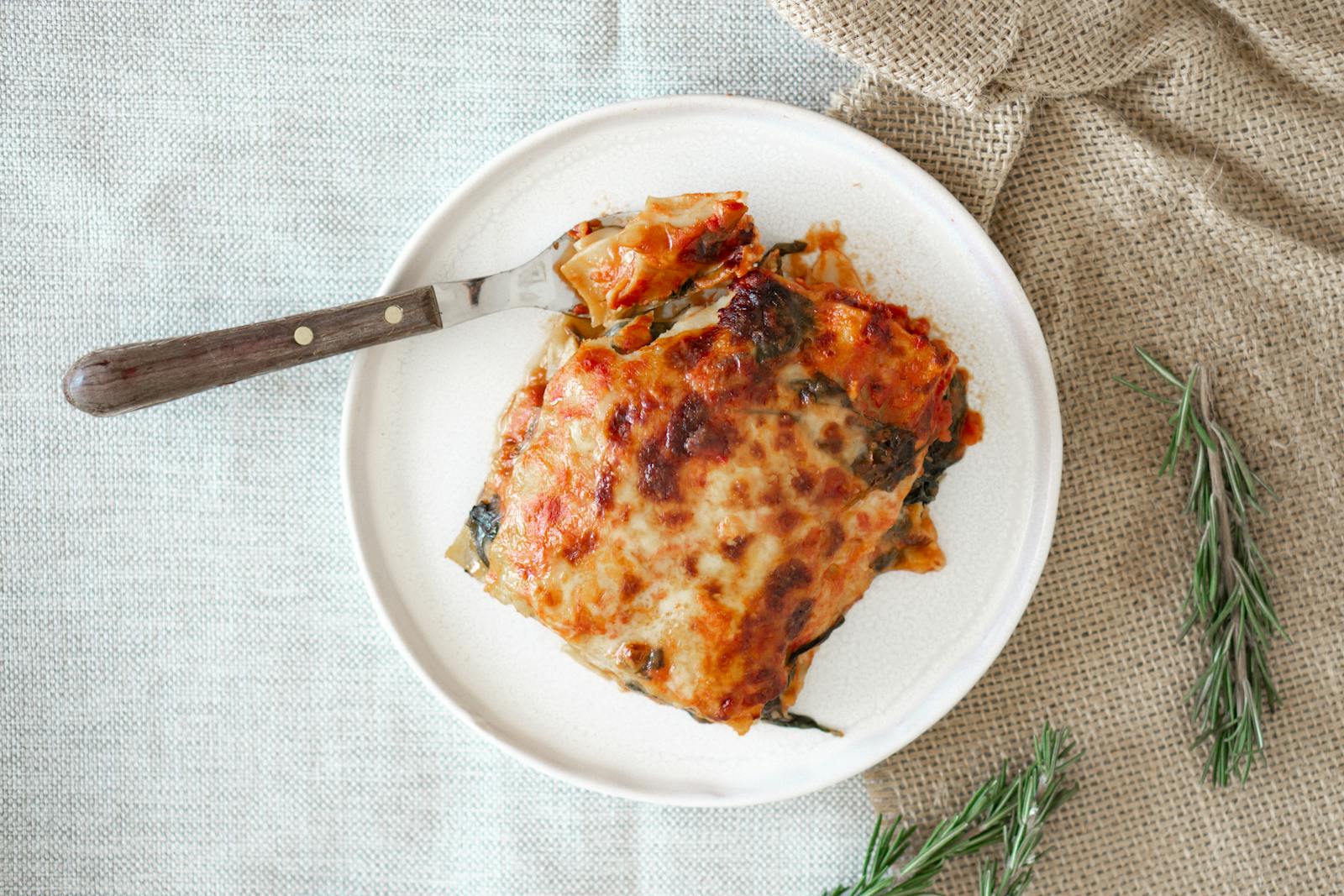 This hearty vegetarian lasagna recipe from Simply Recipes is filled with delicious veggies and gooey cheese, perfect for a healthy family dinner.
Ingredients:
- 9-12 lasagna noodles
- 1 jar (24 oz) marinara sauce
- 1 cup sliced mushrooms
- 1 cup diced zucchini
- 1 cup diced yellow onion
- 2 cups chopped fresh spinach
- 1 cup ricotta cheese
- 1 cup grated mozzarella cheese
- Salt and pepper
- Olive oil

Instructions:

1. Preheat your oven to 375°F.

2. Cook the lasagna noodles according to package directions. Then drain, rinse with cold water and set aside.

3. Heat 2 tablespoons of olive oil in a large skillet over medium-high heat.

4. Add the diced onions and cook for 3-4 minutes, stirring occasionally.

5. Add the sliced mushrooms and diced zucchini to the skillet and cook for another 5-6 minutes until they start to soften.

6. Add the chopped spinach and cook for a few more minutes until it wilts.

7. Add the jar of marinara sauce to the skillet and stir everything together.

8. In a separate bowl, mix together the ricotta cheese, 1/2 cup of the grated mozzarella cheese, and a pinch of salt and pepper.

9. Spread a thin layer of the tomato sauce mixture in the bottom of a 9x13 inch baking dish.

10. Place a layer of the cooked lasagna noodles on top of the sauce (3-4 noodles per layer).

11. Spread half of the ricotta cheese mixture over the noodles.

12. Spoon half of the remaining tomato sauce mixture over the cheese and spread it out evenly.

13. Repeat these steps (noodles, cheese, sauce) to create another layer.

14. Sprinkle the remaining 1/2 cup of grated mozzarella cheese on top of the lasagna.

15. Cover the baking dish with foil and bake for 25 minutes.

16. Remove the foil and bake for an additional 10-15 minutes, until the cheese is melted and bubbly.

17. Let the lasagna cool for a few minutes before slicing and serving. Enjoy!
Estimated Macros per Serving:
Based on the ingredients listed, here is an estimate of the macronutrients per portion (assuming 2 portions):

Protein: 22g
Fat: 13g
Carbs: 54g
Fiber: 6g
Sugar: 12g
Salt: 1100mg

Keep in mind that this is just an estimate and actual macronutrient amounts may vary based on specific ingredients and portion sizes.