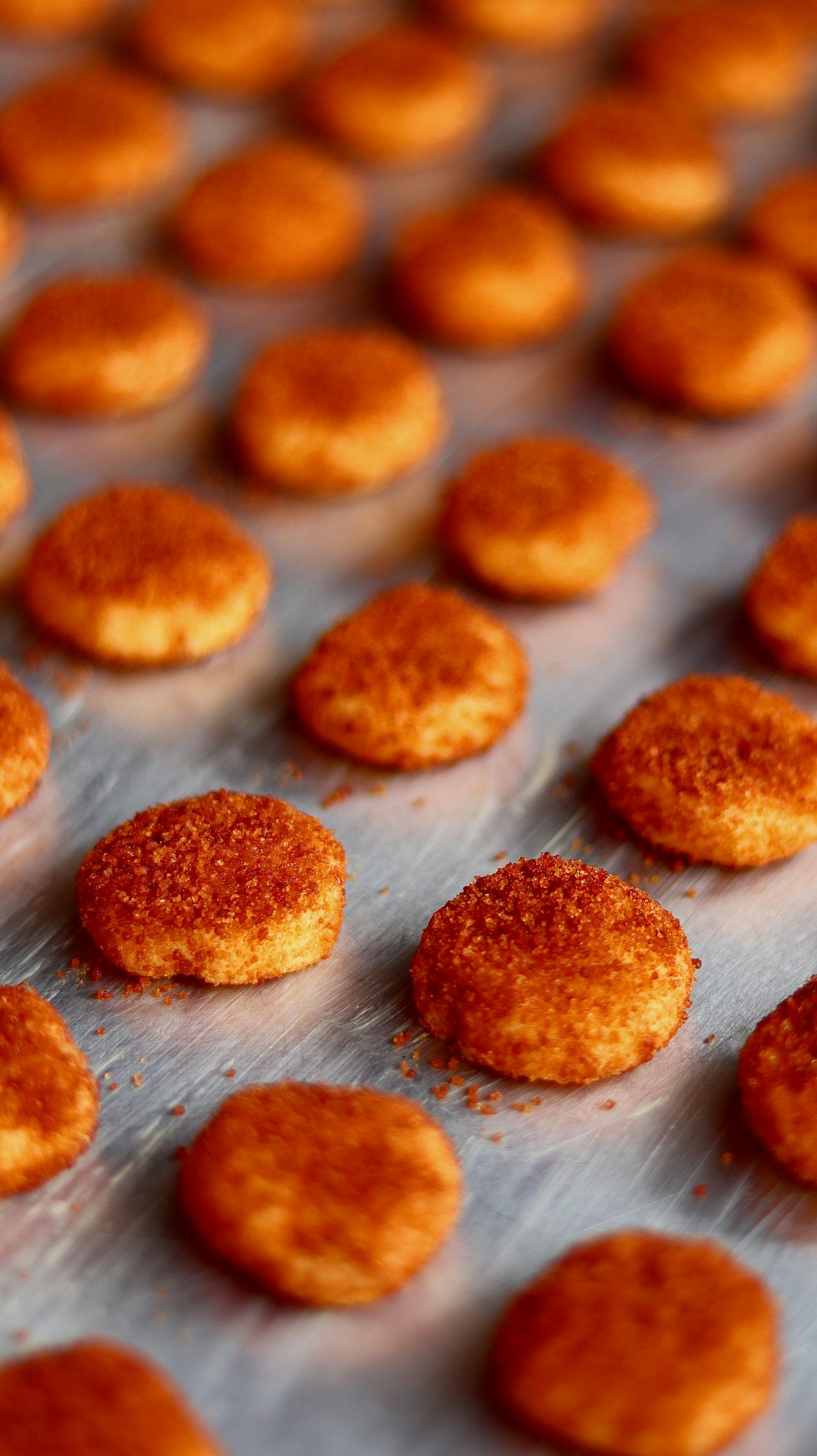 Upgrade your snack game with vegetarian chicken nuggets from Simply-Recipes! Easy, healthy and delicious, this recipe is a crowd-pleaser for all ages.
Ingredients:
- 1 can of chickpeas (15 oz)
- 1/2 cup of breadcrumbs
- 1/3 cup of grated Parmesan cheese (optional)
- 1/2 teaspoon of paprika powder
- 1/2 teaspoon of garlic powder
- salt
- pepper
- 1 egg (or flax egg for vegan option)
- cooking spray

Steps:

1. Preheat your oven to 400°F (200°C).

2. Drain the can of chickpeas and rinse them well. Place them in a large mixing bowl and mash them with a fork until only a few larger pieces remain.

3. Add the breadcrumbs, Parmesan cheese (if using), paprika, garlic powder, and a generous pinch of salt and pepper to the bowl. Mix until well combined.

4. Crack the egg into a small bowl and whisk it until the yolk and white are fully combined. Pour the egg mixture into the bowl with the chickpea mixture and stir until everything is coated in the egg.

5. Use your hands or a small cookie scoop to form the mixture into small nuggets. Place them onto a baking sheet lined with parchment paper or lightly coated with cooking spray.

6. Spray the tops of the nuggets with more cooking spray to help them crisp up. Bake for 20-25 minutes or until golden brown and crispy.

7. Remove the nuggets from the oven and let them cool for a few minutes on the baking sheet. Serve them with your favorite sauce or dip.

Enjoy your delicious and healthy vegetarian chicken nuggets!
Estimated Macros per Serving:
Based on the given recipe, the estimated macronutrients per portion (2 servings) are:

- Protein: 14g
- Fat: 6g
- Carbs: 33g
- Fiber: 7g
- Sugar: 3g
- Salt: 540mg

Please note that these are approximate values and may vary depending on the specific brand and quantity of ingredients used.