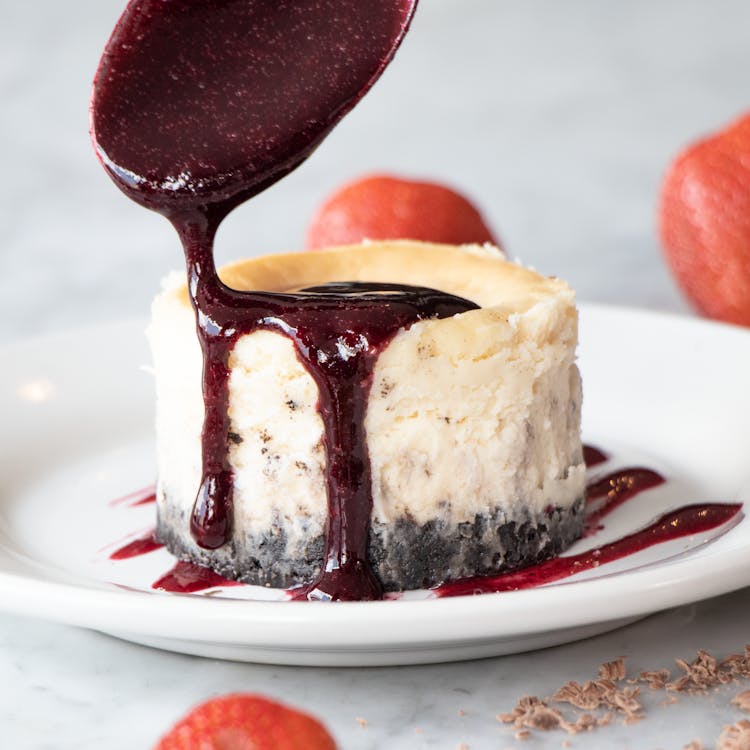 Indulge in a healthy cheesecake dessert with this easy vegetarian recipe from Simply Recipes. Creamy, sweet and tangy all in one bite!
Ingredients:
- 250g cream cheese, softened
- 1/4 cup sugar
- 1/4 cup sour cream
- 2 tbsp cornstarch
- 2 tbsp lemon juice
- 1 tsp vanilla extract
- 1/4 tsp salt
- 1/4 cup milk
- 6 graham crackers, crushed
- 3 tbsp unsalted butter, melted
- 1/4 cup blueberries (optional topping)

Instructions:
1. Preheat oven to 325°F (160°C).
2. In a mixing bowl, combine cream cheese, sugar, sour cream, cornstarch, lemon juice, vanilla extract, and salt. Mix until smooth and creamy.
3. Gradually add in milk and continue mixing until well-combined.
4. In a separate bowl, mix crushed graham crackers and melted butter.
5. Divide the graham cracker mixture into two portions and press each portion into the bottom of two 4-inch springform pans.
6. Pour the cheesecake mixture evenly into the two pans.
7. Bake for 20-25 minutes until the cheesecake is set and the edges are slightly golden.
8. Let the cheesecake cool before refrigerating for at least 2 hours.
9. Once chilled, release the cheesecake from the springform pans and top with blueberries, if desired. Serve and enjoy!
Estimated Macros per Serving:
Based on the given ingredients and assuming the optional blueberry topping is not included, here is an estimate of the macronutrients per portion of Vegetarian Cheesecake:

7g of protein
28g of fat
21g of carbs
0.5g of fiber
16g of sugar
0.4g of salt

Note: These are estimates and may vary depending on the specific brands and types of ingredients used.