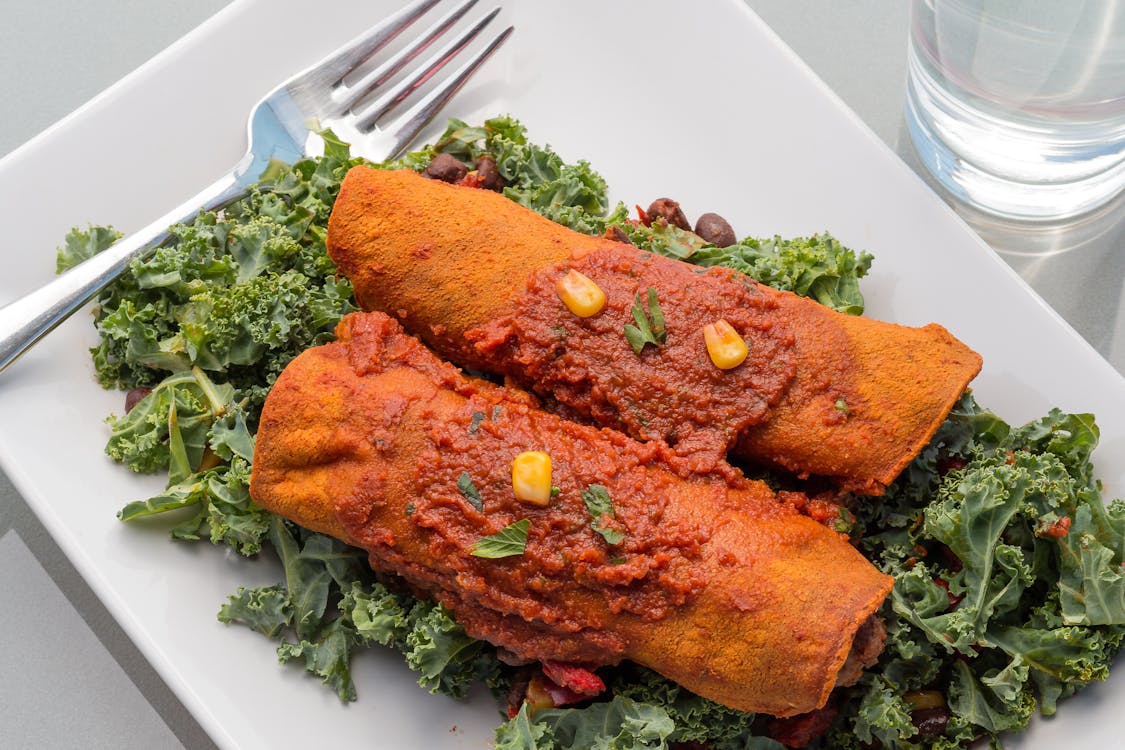 Looking for a delicious and healthy vegan recipe? These Vegan Enchiladas are ready in under 40 minutes and perfect for plant-based diets. Simply-recipes made easy!
Ingredients:
- 4 tortillas or wraps
- 1 can of black beans
- 1 diced onion
- 1 diced red bell pepper
- 2 cloves of minced garlic
- 1 tsp of chili powder
- 1/2 tsp of cumin
- 1/2 tsp of smoked paprika
- Salt and pepper
- 1 cup of enchilada sauce
- 1/2 cup of vegan cheese shreds
- Guacamole, chopped cilantro, and lime wedges for serving (optional)

Steps:
1. Preheat your oven to 375 degrees F.
2. Drain and rinse the black beans and set them aside.
3. In a large pan over medium heat, sauté the diced onion and red bell pepper until tender.
4. Add the minced garlic, chili powder, cumin, smoked paprika, salt, and pepper, and stir to combine.
5. Add the black beans to the pan and mix everything together.
6. Spread a small amount of enchilada sauce on the bottom of a baking dish.
7. Take a tortilla and fill it with a portion of the black bean mixture. Roll it up and place it in the baking dish.
8. Repeat with the remaining tortillas.
9. Pour the remaining enchilada sauce over the rolled-up tortillas.
10. Sprinkle the vegan cheese shreds over the sauce.
11. Bake the enchiladas for about 15-20 minutes or until the cheese is melted and bubbly.
12. Serve with guacamole, chopped cilantro, and lime wedges on the side if desired. Enjoy!
Estimated Macros per Serving:
Estimated Macronutrients per portion:

Protein: 18g
Fat: 8g
Carbs: 60g
Fiber: 15g
Sugar: 6g
Salt: 2g