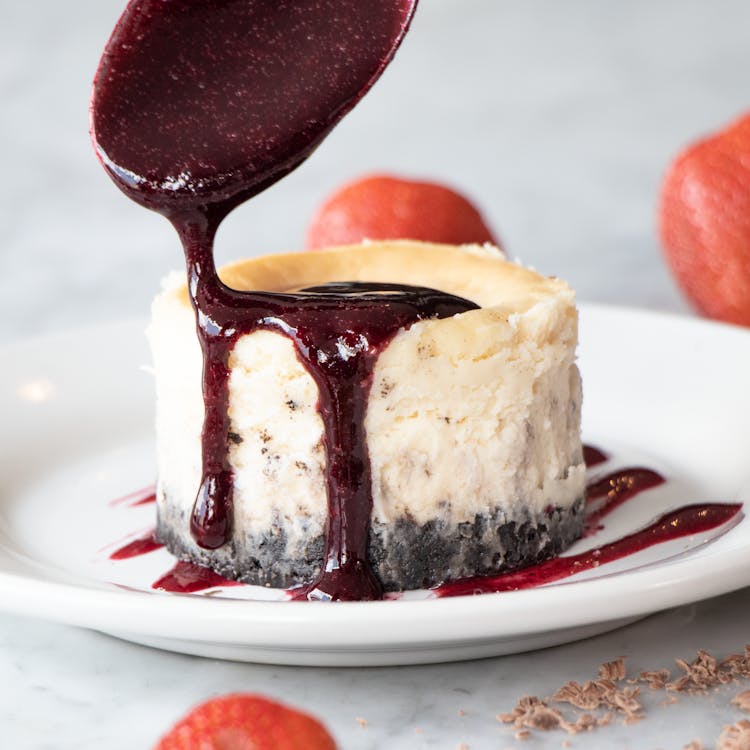 Looking for a delicious, dairy-free alternative to traditional cheesecake? This Vegan Cheesecake recipe from Simply Recipes is the perfect solution! Made with cashews and coconut milk, it's creamy and satisfying without any dairy.
Ingredients:
- 1 cup raw cashews
- 1/4 cup maple syrup
- 1/4 cup coconut oil, melted
- 1/4 cup unsweetened coconut milk
- 1 tablespoon lemon juice
- 1 teaspoon vanilla extract
- 1 pinch of salt
- 1 cup Graham crackers, crushed
- 4 tbsp coconut oil

Steps:

1. Soak 1 cup of raw cashews in water for at least 4 hours or overnight.

2. Preheat the oven to 350°F (180°C) and grease two 4-inch springform pans.

3. In a food processor, mix 1 cup of Graham crackers and 4 tablespoons of melted coconut oil until well combined.

4. Press the mixture into the bottom of the pans to form a crust.

5. Bake the crust for 10 minutes, then remove from the oven and let cool.

6. Drain the cashews and add them to a blender along with 1/4 cup of maple syrup, 1/4 cup of melted coconut oil, 1/4 cup of unsweetened coconut milk, 1 tablespoon of lemon juice, 1 teaspoon of vanilla extract, and a pinch of salt.

7. Blend until the mixture is smooth and creamy.

8. Pour the mixture into the cooled crusts and smooth the surface with a spoon.

9. Place the cheesecakes in the freezer for at least 4 hours or overnight to set.

10. Once the cheesecakes are set, remove them from the freezer and let them sit at room temperature for a few minutes before serving.

11. Garnish with fresh fruits or nuts and enjoy!

Tip: You can also add some cocoa powder, matcha, or fruit puree to the cheesecake mixture for more flavor variation.
Estimated Macros per Serving:
Estimated Macronutrients per portion:

- Protein: 7g
- Fat: 36g
- Carbs: 32g
- Fiber: 2g
- Sugar: 16g (all coming from the maple syrup)
- Salt: 92mg (approx 4% of daily recommended intake based on a 2000 calorie diet)

Please note that these are estimates and may vary based on the exact ingredients used. Additionally, the cheesecake is high in fat due to the use of coconut oil and cashews, which are both sources of healthy fats.