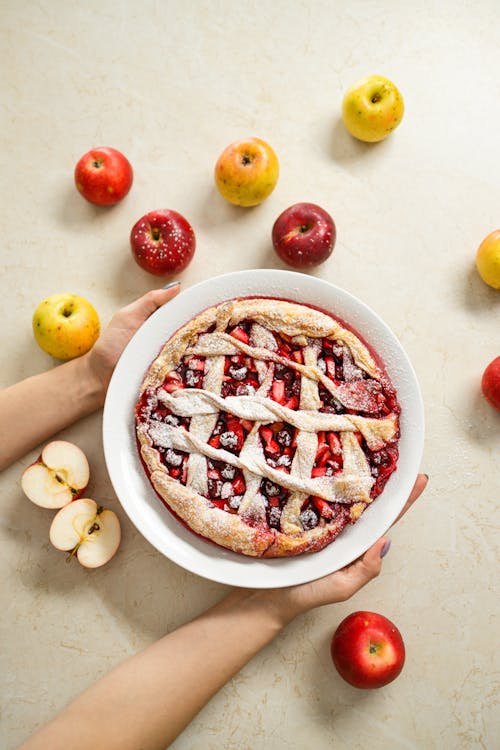 This Vegan Apple Pie recipe from Simply Recipes is easy to make and packed with flavor. Serve this scrumptious dessert at any gathering!
Ingredients:
- 2 pie crusts (store-bought or homemade)
- 4 apples, peeled and sliced
- 1/2 cup of brown sugar
- 1/4 cup of all-purpose flour
- 1/2 teaspoon of cinnamon
- 1/4 teaspoon of nutmeg
- 1/4 teaspoon of salt
- 1 tablespoon of vegan butter
- 1 tablespoon of plant milk (for glazing)

Steps:
1. Preheat the oven to 375°F.
2. In a mixing bowl, combine the sliced apples, brown sugar, flour, cinnamon, nutmeg, and salt.
3. Roll out one pie crust and fit it into a 9-inch pie dish.
4. Pour the apple mixture evenly into the pie crust.
5. Dot the top of the mixture with vegan butter.
6. Roll out the second pie crust and place it over the apple mixture.
7. Pinch the edges of the two pie crusts together to seal the pie.
8. Use a knife to cut a few slits on top of the pie crust for ventilation.
9. Using a pastry brush, lightly brush the pie crust with plant milk.
10. Bake the apple pie for 45-50 minutes, or until the crust is golden brown.
11. Remove the pie from the oven and allow it to cool for at least 15 minutes before serving.
Estimated Macros per Serving:
- Protein: less than 1g
- Fat: 10-15g
- Carbs: 50-60g
- Fiber: 4-6g
- Sugar: 30-40g (natural sugars from the apples and added sugar in the crust)
- Salt: less than 0.5g

Please note that these are rough estimates and can vary depending on the exact size of the pie, crust used, and other factors. It's important to factor in the macronutrients of all ingredients used in a recipe when tracking your nutritional intake.