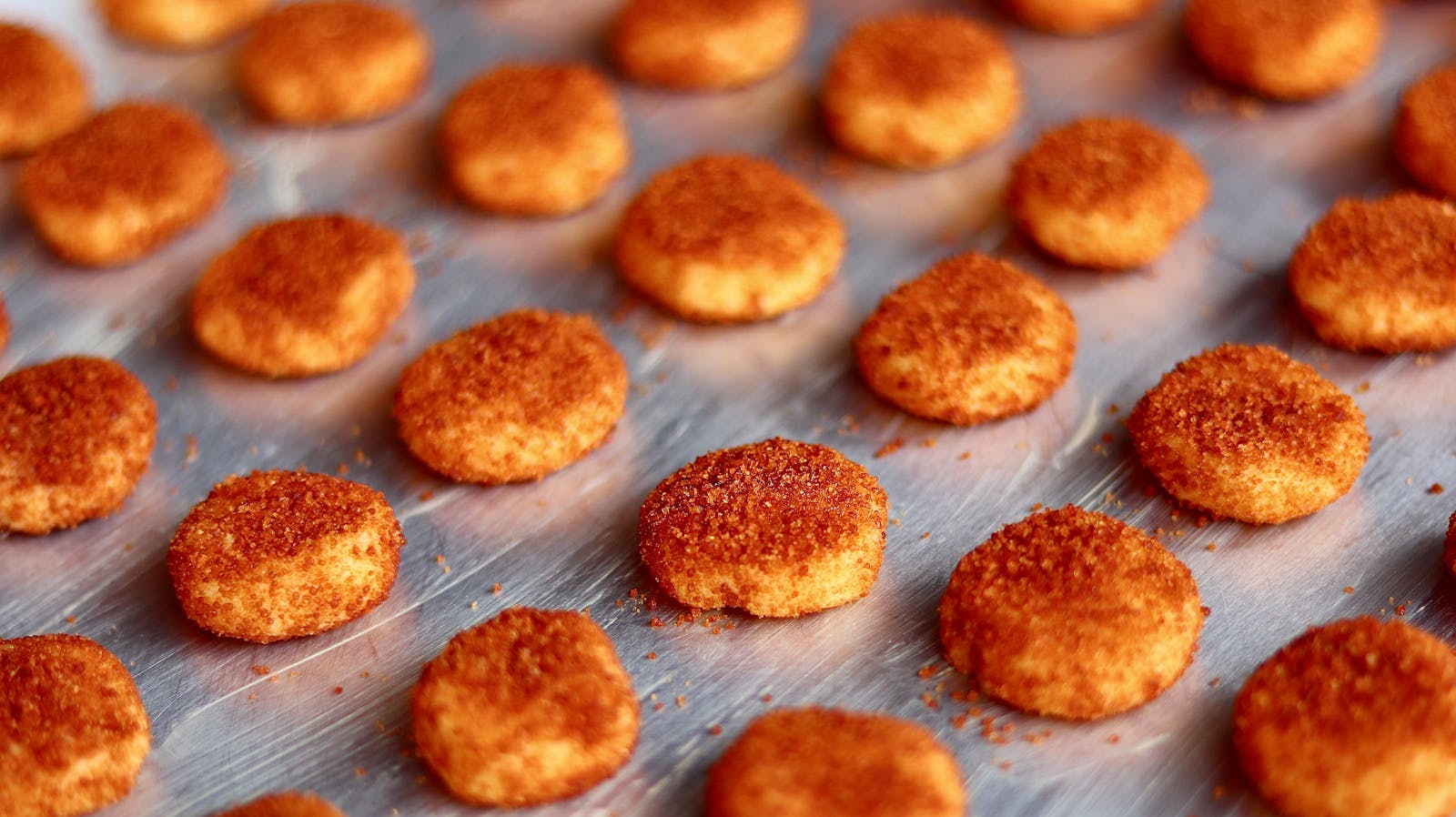 This delicious and straightforward chicken nugget recipe from Simply Recipes is sure to satisfy everyone's cravings! Perfect for a quick and easy dinner.
Ingredients:

- 1 boneless, skinless chicken breast
- 1/2 cup seasoned bread crumbs
- 1/4 cup grated Parmesan cheese
- 1/2 tsp salt
- 1/2 tsp black pepper
- 1 egg
- 1 tbsp milk
- Oil, for frying

Steps:

1. Preheat the oven to 375°F.

2. Cut the chicken breast into bite-sized pieces.

3. In a bowl, mix together the bread crumbs, Parmesan cheese, salt, and black pepper.

4. Beat the egg in another bowl and mix in the milk.

5. Dip the chicken pieces in the egg mixture, then coat them in the bread crumb mixture.

6. Heat oil in a frying pan.

7. Gently fry the chicken nuggets for 3-4 minutes on each side, or until golden brown.

8. Place the chicken nuggets on a baking sheet and bake for 10-12 minutes, or until cooked through.

9. Serve with your favorite dipping sauce. Enjoy!

Note: you can use an air fryer instead of frying in oil to make it healthier.
Estimated Macros per Serving:
Based on the ingredients and the cooking method provided, here is an estimate of the macronutrient content per portion:

- Protein: 31g
- Fat: 16g
- Carbs: 22g
- Fiber: 1g
- Sugar: 1g
- Salt: 1g

Please note that these values are approximate and may vary depending on the specific ingredients and measurements used. Additionally, the macronutrient content may be affected by any sauces or dips used for serving.